Dental Support Service Investigation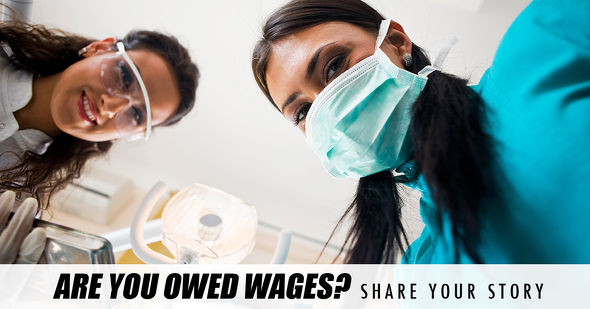 To all dental support employees and/or affiliate dental office staff (including dentists) working with or in a Dental Service Management Organization:
We are investigating potential class action lawsuits against dental support organizations (dental service management organizations) for various wage and hour violations.
Are you now or were you a dental support employee working for any of the major Dental Service Management Organizations in the nation?
Did you experience any of the following:
Not being paid overtime (even if you're a dentist)?
Being paid commission rather than an hourly wage?
Not being paid for meal breaks or missed rest periods?
Not paid for all hours worked (working "off-the-clock")?
Not being paid for business expenses, such as malpractice insurance or mileage to business meetings?
Have experienced a breach of contract (even if you're an owner-affiliate)?
If you are a former or current Dental Support Organization employee or have worked with a Dental Services Management Organization and wish to discuss your potential claims, please contact the Law Offices of Michael P. Sousa, APC.